on Mar 14 in
News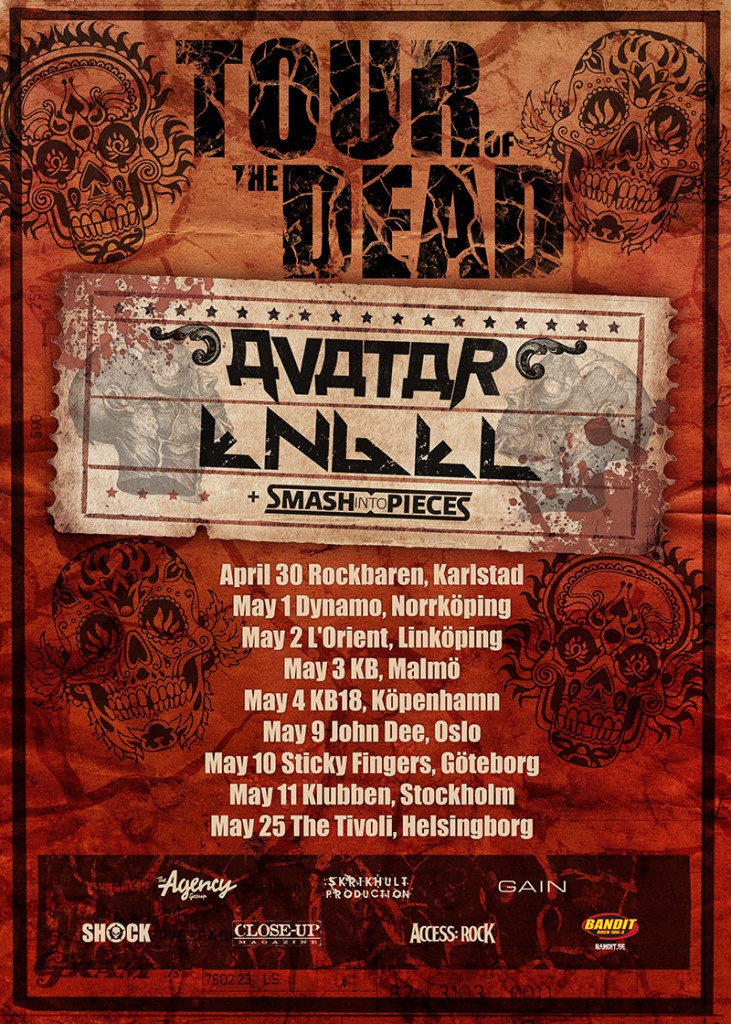 ENGEL and AVATAR proudly present: Tour Of The Dead! This will be so much fun and we are really looking forward to playing and hanging out with our good friends in AVATAR. Check out and see if we are coming to a town near you.
April 30, Rockbaren, Karlstad
May 1, Dynamo, Norrköping
May 2, L'Orient, Linköping
May 3, KB, Malmö
May 4, KB18, Copenhagen
May 9, John Dee, Oslo
May 10, Sticky Fingers, Gothenburg
May 11, Klubben, Stockholm
May 25, The Tivoli, Helsingborg
Support: Smash Into Pieces
// ENGEL
on Feb 27 in
News
We had some fun in the rehearsalroom when we started rehearsing with Mikael. This video shows the song Casket Closing, and yes, he is killing it!
If you guys like this video, we might just put up some more videos in the future

ROCK N ROLL!
// ENGEL
on Dec 31 in
News
Dear All, finally 2012 is almost at an end and the world is still here which to be
honest was never really in doubt as we have yet more shows to play, Albums
to record and fun to be had! Sadly what our ancient Mayan friends hadn't
taken in to account when they designed their not so festive calendar would be
a certain fruit based Computer company that would have simply offered us the
Iearth2 with extended hours and improved planetary rotation but probably
still not able to get Flash products to work…
For us, it has been an epic year which started in January with the Making of the
new Video for Question your place and then launching us over to the Far East
followed by the International release of our 3rd and most satisfying Album to
date "Blood of Saints"
It certainly felt great to back out on the road this year with a lengthy but
worthwhile Touring and Festival schedule which culminated in our very first
Headlining tour in Europe. Of course all of this wouldn't have been possible
without the love and support of you all, not to mention the hard work of all
those working behind the scenes at Team Engel and of course a very Special
thanks to all of our Engel Saints who do so much to keep the Faith alive.
Needless to say that there have been some major changes now and also some
unfortunate injuries that have taken its toll from the extensive touring of 2012
but the important thing to remember is that we should always be looking
forward and not remain too much in the past. Things change and we have to
accept this but we look always to the future and promise to bring better and
bigger things!
With this in mind, we cannot wait for 2013 and look forward to seeing you all
again with renewed high hopes and expectations from us, we promise to be
even more epic than before and wish you a very Festive and enjoyable
holiday-season and all the best for 2013!
// ENGEL
on Dec 14 in
News
Check this out people! Interview with Niclas on EHVGEAR.COM
// ENGEL
on Dec 03 in
News
Hey guys.
We are sorry to say that  Blood Of Saints Over Sweden+ tour is cancelled due to knee surgery. Our basist Steve have been rocking to much that his knee broke down and now has to face some time in the hospital to make things right. This is his statement:
"Dear All, no doubt by now it has been made official but sadly we have had to cancel the up and coming shows due to a persistant knee condition that i have been dealing with which has become much worse over the past months to the point of being unable to perform under medical instructions. It was always my intention to get the next shows under way until my scheduled and unavoidable surgery to rectify the damage but sadly the many physio sessions and pain killers have had a negative side effect leaving me in constant pain and unable to give what i think is my best in the live performance.
I really am sorry to disappoint so many of you but i promise to be back and fighting fit for the new year but right now i need to take some time out to rest before surgery.
I thank you all for your patience and understanding and see you all soon!"
The following shows is cancelled:
7/12 Växjö
8/12 Norrköping
14/12 Karlstad
15/12 Helsingfors
21/12 Halmstad
22/12 Trollhättan
See you next year people!
// ENGEL

on Nov 21 in
News
"Hey guys!
We're sorry to say that the show in Motala on Dec 1 have been cancelled. The show in Halmstad on Nov 30 have been re-scheduled to Dec 21. The reason for this is Steve's bad knee that have been waiting for treatment for a long time now.
To make it up to you we added two additional shows. Check the gigs section to find out!
// ENGEL"
on Nov 09 in
News
BREAKING NEWS!!
We are sad to say that Magnus will not be a member of ENGEL anymore. We had a really good run and we will miss him very much. There is no hard feelings between ENGEL and Magnus and we parted ways as friends, carrying with us a lot of good times and awesome memories.
However, this will not affect the coming shows, since our good friend Lenne (ex-Twelvestep) steps up to the plate once again and fills in for Magnus during the Blood Of Saints Over Sweden+ Tour. Come out to the shows and support Engel and Lenne by banging your head on the Frontline!
// ENGEL
Magnus has issued the following statement:
"So this is it, my time in Engel is over. I'm not going to rant about the who's and why´s, just say goodbye. I have had a lot of good times and I am sad to leave it behind, but that's how it goes sometimes.
It´s not a farewell forever, I'm not going to quit music.
I´m going to miss the boys on stage, the people in the crowd and all the good friends I have met on the road.
To the boys on stage: Good luck with all future adventures.
To the crowd: Stay true, I will miss you.
And to the "roadsters": See you again soon."
on Oct 26 in
News
Hey guys!
We're sorry to say that due to illness Magnus can't participate in
this Saturdays show in Helsingborg with Raubtier. We all hope for a
speedy recovery.
For all you guys who have tickets for the show at The Tivoli, fear
not. The show will NOT be cancelled. Our dear friend Lenne
(ex-Twelvestep) will fill in for Magnus on vocals. So come out and
join us on the Frontline!
// ENGEL
on Sep 29 in
News
Hey boys and girls!
Since we had a blast on Blood Of Saints Over Europe tour we wanted to do some more giggin before this years end. Here's some new dates for you to check out!
6/10 Sparbankshallen, Varberg – supporting W.A.S.P
27/10 The Tivoli, Helsingborg w/ Raubtier
9-10/11 Bandit Boat
30/11 James Rockbar, Halmstad
1/12 Kulturakademien, Motala
7/12 Harry's, Växjö
8/12 Last In Line @ Dynamo, Norrköping
14/12 Glada Ankan, Karlstad
15/12 MetalOrgy 2012, Helsinki, FINLAND
More dates TBA.
Cheers!
// ENGEL
on Sep 09 in
News
People!
We are almost there, the epic tour is soon about to start of! We are really excited about this!!
If you haven't already. Check out the gig section on this site where you can see detailed information about the gigs and also book your tickets!
SEE YOU OUT THERE!
/ ENGEL